Julia Altmann, Senior Consultant at Crossmedia, deals intensively with climate-neutral media planning in her daily work and knows that efficiency and sustainability can sometimes seem to be at odds with each other. In her article, she explains how green media can make everyone come up trumps.
Sustainability is currently one of the trending topics in the advertising industry – marketers, agencies and advertisers alike are increasingly looking into climate-friendly media planning. The movement in the market is clearly noticeable – industry events such as the W&V Green Marketing Days provide insights into sustainable action, show best cases and encourage exchange and discussion. At first glance, the green future already seems within reach: (digital) advertising formats with reduced CO2 emissions are being developed, super posters are not simply destroyed at the end of the campaign but recycled and made into new products. The smart tech materials of special OOH posters even filter the harmful greenhouse gas from the air and thus contribute to a better climate.
Green is more than just compensation
However, anyone who takes a deeper look at the topic of sustainable media planning will quickly discover that the CO2 emissions generated by campaigns are often only offset through compensation – for example, by supporting certified climate protection projects. Compensation is an important step in the right direction on the way to a green media campaign. However, compensation alone should not be the only factor and just incorporates one component of sustainable planning. Truly climate-friendly media takes its C02 footprint into account from the very beginning, because it's not just a matter of doing damage control at the end of a campaign. It's about taking into account all aspects that reduce CO2 and, ideally, even avoid it altogether, early on in the planning process. From the actual creative and selection of suitable media channels, to the selection of suitable media partners and settings, to the CO2-reduced use of advertising media or targeting on low-energy end devices.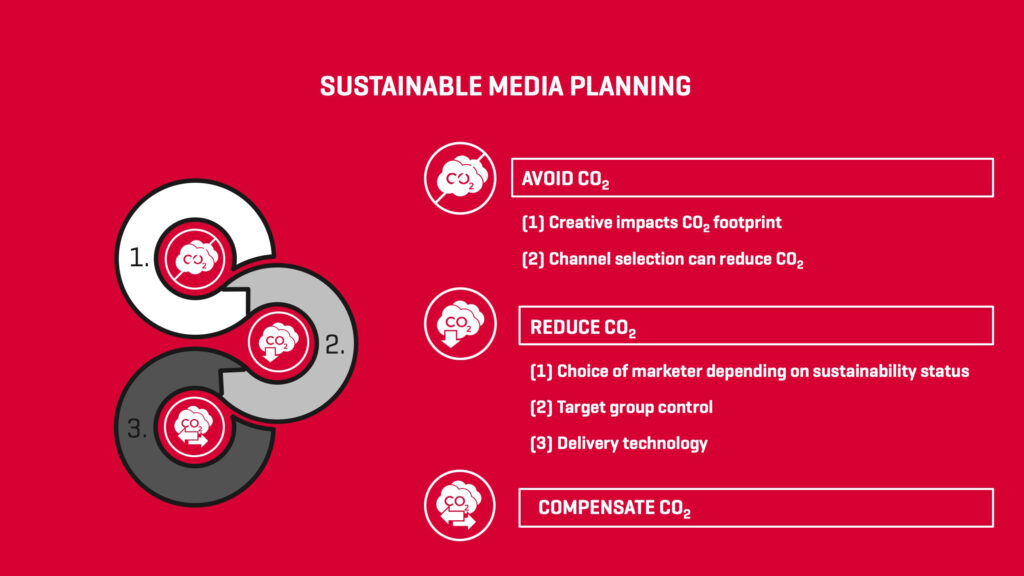 Green is rarely free
There are already good solution-oriented approaches on the market. Advertisers are also finding more and more access to the topic of sustainability – sustainability is relevant, reflects the spirit of the times, and generally attracts a great deal of interest. Nevertheless, this interest is countered in part by a certain reluctance when it comes to the ultimate implementation of measures, because "green" media incurs additional costs and, in some instances, can result in a drop in performance or reach.
Example: if a customer has used giant posters in their communication and subsequently decides to process the material into recycled products, this also incurs costs. Advertisers first have to come up with these costs and also show the corresponding willingness to pay them. With declining media and marketing budgets, this can certainly be a challenge and, in the worst case, an obstacle. The compensation of CO2 emissions already mentioned must also be taken into account in budgetary terms – as a rule, approx. 0.5 and 1.0% of the media budget is calculated here.
A second thought: moving image use causes higher emissions than static advertising media – more energy is consumed both on the production side and during delivery. If advertisers decide against the use of moving images because of this, this can mean restrictions in the selection of advertising space and inventory and thus lead to a limitation in terms of achieving their relevant media KPIs. This is also where the next challenge lies: campaign targets are often defined by hard media KPIs such as CPM, GRP, or CPX. In order to achieve the objectives, a budget is defined – the budgetary impact of sustainability measures is sometimes disregarded, resulting in a discrepancy between service delivery, target achievement, and sustainability.
Roadmap for green media
The task of media agencies must be to educate, to share knowledge of the pros and cons of sustainable media and campaign planning with clients and marketing decision-makers, and to increase the general understanding of the possibilities of climate-friendly campaigns. Only if advertisers are aware of the possibilities of green media can they turn them into reality. At the same time, agencies need to altert their clients to potential missteps, because going green in one area while not thinking climate-friendly at all in another can quickly backfire. The primary goal should be to promote the professionalization of the industry and to ensure a balance between sustainable media on the one hand and efficient planning on the other.
Foto Credit: Casey Horner (Unsplash)