Crossmedia's story has not one, but two beginnings. Founded in Germany in 1997 by Markus Biermann, the first US office was opened by Kamran Asghar and Martin Albrecht just three years later. Co-existing for over two decades, the two entities have always been rooted in the same values and principles, despite operating in two at times very different markets. In this interview, Kamran and Markus share their views on Crossmedia's secret sauce, discuss returning to the office post-Covid and explain what it means to not lose your soul in the face of growth.
Listen to this article – read by an AI:
As an independent agency, Crossmedia prides itself in being different. What do you think is it that sets Crossmedia apart from other media agencies, independent or network, and what kind of talent do you attract? Are there any shared values or milestones that both Crossmedia Germany and Crossmedia US celebrate?
Kamran: I think it's a core Crossmedia philosophy that we give you great freedom. We expect you to think for yourself. But with great freedom comes great accountability. Nobody would ever say that Crossmedia is an easy place to work, but it certainly gives you the ability to completely be your best at what you do, your best self. I think that's why a certain type of talent gravitates to Crossmedia. They're passionate, they love the industry, and they want the freedom to be able to do the right things for their clients and for their people.
Markus: Crossmedia has always attracted people who want to push things forward, people who question the status quo, people who look at a problem from a different angle and challenge what's been done in the past. Those are the kind of people that stick with us because they find that those are qualities that they can't find elsewhere.
Kamran: I think it's also because we have a 25-year legacy of treating people a certain way. Our culture is already part of who we are. I think many other organizations have to manufacture that. They have to come up with things like team outings. And, you know, it's forced. I don't think we force those things, they come natural and often times it's our teams coming up with new ideas that eventually turn into core Crossmedia traditions.
Markus: Yeah, it comes from within. We are very lucky in that we attract people with an entrepreneurial spirit, people with a curious mind, and they will naturally want to add to what makes Crossmedia different and keep it evolving.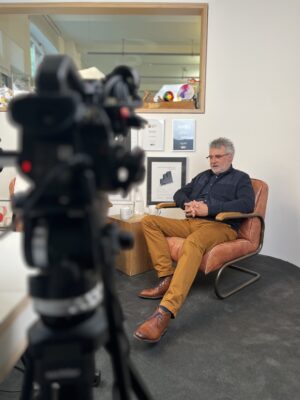 Markus, Crossmedia Germany celebrated its 25th birthday last year. With now over 300 members of staff, the agency not only managed to win the first ever "Agency of the Year" award at Deutscher Mediapreis, but it was also awarded the prestigious Mindshift Award for its flexible 35-hour work week, a project you spearheaded. Can you tell us a bit more about the origins of this project?
Markus: I guess it's one of my character traits that I believe in not holding on to what's no longer serving you. Covid, as horrible as it was, has been a great accelerator for that. It has changed the way we work, how we interact with each other. And it has brought about this resourcefulness in responding to new challenges, whether it was something seemingly mundane like drinking coffee virtually or coming up with technological solutions like developing our desk finder, a tool that allowed our staff to book a safe desk at the office during times of social distancing.  I didn't want us to lose that spirit and I was eager to distill what we learned during the crisis. I wanted to apply what we learned and transform it into something new. That's why we didn't just go back to our old way of working. The mantra that is behind our new flexible work model is "happy people, happy clients, happy agency". It's about merging what is right for our people and in turn is good for our company.
Coming out of a pandemic means economic challenges and media is no exception. But we can clearly see the benefits our new model has, not only for our employees, but also for our clients. We're seeing more flexibility, a higher chance to get the work done when it needs to get done, as opposed to fixed working hours dictating a schedule.
And for our people, the big benefit is a better work-life-balance, because after a peak in work volume, you can then clock off earlier. Of course, there are obstacles that come with change, but I'm convinced that is a good thing for us as a company. We are in the middle of an experiment, but we are immensely proud of what we've achieved up until this point, and we're not finished! Lots of things are still cooking in the kitchen, and I'm excited for next year when more changes will be revealed as we'll be moving into our new office space.
Kamran, the US has had record growth the past several years, won a slew of awards including being the highest ranked media agency on Ad Age's Best Place to Work list four years running, Adweek Media Agency Executive of the Year and accolades for culture & diversity. During the press coverage, you've talked a lot about scaling with soul. What does that mean to you?
Kamran: Thank you! Growth is a good thing. Every company, every business should want to grow. It means you can add more people and services, you can expand your offering and elevate your career. But growth will often come at a price. It forces you to do things that are more corporate. You need different kinds of structures; you need different kinds of process systems. And these things naturally will pull at that entrepreneurial spirit. So, the idea of scaling with soul puts together two important concepts for success in business today. You need to grow, you want to grow, you need to build your business to be able to handle growth. However, that growth will not be able to be sustained with the talent you have if you don't allow your culture to live within that growth. And that culture isn't only about, you know, burgers and beer or office parties or whatever. Soul also is about making good ethical decisions for your clients and for your company. It's Markus pioneering media transparency here in Germany before anybody was thinking about that in the US. That is soul in a business that allows you to also scale on a model that's different than what our competitors feel is the right way to do things.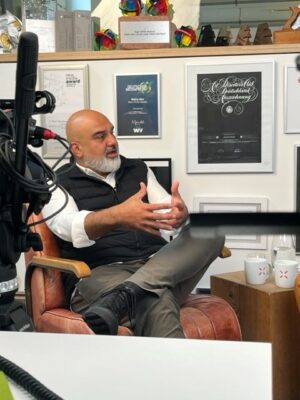 Covid became a magnifying glass for structural and cultural issues in the workplace. Nurturing, developing and rewarding talent is incredibly important yet it can be hard to do. What are the problems that the advertising industry in particular is struggling with?
Kamran: There's a lot. Some are very basic business management issues. Agencies tend to take on clients at very, very low fees and therefore have a hard time staffing their business to the fullest. And that just burns everybody out. It's a recurring issue, and the race to the bottom on price has a real effect on your talent. While marketers insist they should get a fair price, agencies are guilty of accepting that sort of behavior.
I don't think a lot of these holding company agencies in particular are as bold as somebody like Markus who says it's more important to keep our people fresh and excited and adopt a flexible working policy. Coming out of the pandemic, many any of them are asking everybody to come back, you know, for fixed time. But we believe you should work from anywhere. We fully believe that in person is a real benefit and a real asset, but you should want to do that and not be forced.
How will the post-Covid hybrid working model affect how we work moving forward, especially in terms of physical office space?
Kamran: Covid was a great accelerator for many innovations that were already happening, like video conferencing, logistics, you name it, many things that were starting into motion. But the one thing it definitely and fundamentally changed is how we work and where we work. Oftentimes for the better, because it brought about more flexibility, more time with family, the ability for your life to coexist with work, as opposed to only work being the center. I don't think there's any way we're going backwards on that. You can't take that away. It's now a societal norm. That's why everything we think about from this point forward needs to be thought through this way of working.
Physical space and environment are a real fundamental aspect of Crossmedia, and we take it very, very seriously in terms of where you work and how you work. And we are rethinking some aspects of our New York office right now. But having a remote or distributed workforce opens up the world for talent, and for an independent like Crossmedia that's open and connected, we see a great advantage of having resources to be able to operate this fast moving, 24/7, 365 media world. So, we think it's an awesome opportunity for us.
Markus: For Crossmedia Germany, we are very much thinking about how the office space itself needs to cater to this new way of working. Do you still need your desk with the landline phone? How do you experience a video conference in a full office environment? We will be moving into our new space dubbed "Hugo" (a nod to its location on Hugo-Viehoff-Straße in Düsseldorf] and we are extremely keen on making this space our new hub, our new home where we get to experience, celebrate and cultivate the essence of Crossmedia. We want to celebrate coming together in a central cultural environment which is uniquely ours. I think with everyone being free to work from wherever, it's extremely important to create a space that makes you want to come together. I do believe that nothing beats face-to-face sessions, those are very important when you really want to create something special, and we want to facilitate that.
How can we keep the Crossmedia spirit alive in a post-Covid world?
Kamran: It's hard work. You have to really, really pay attention and put effort towards it. Burger Day is a tradition here in the US where we get together every Friday and eat together. It's been going on since we started but with Covid, you have to rethink and sometimes even break your own little traditions. So right now, we're talking about getting everybody together for a burger maybe once a month to accommodate those who may not be in the office every week and also encouraging people to go out in their hometowns, have their burger there, take a photo and put it on the channels and share it out because it's a moment that we want everybody to experience collectively. Maybe it's been a tough week, maybe it's been a good week. But we have that moment still.
On the bigger scale, we had a summer beach house program last year. It replaced the one big friends and family party we typically have, and we couldn't do that because of social distancing. So, what we did instead to still give everybody the chance to experience something special and communal was to get a series of beach houses where our teams could work during the day and play after the work was done. We made it clear that were not going for a vacation, but you had the liberty to work from anywhere for the week. You got to enjoy your colleagues and have some fun. It takes a huge amount of coordination, and it is an expense, but that's the work you have to put in.
Markus: Yes, you have to put in the work. It's about creating real-life touchpoints. That's why we are so keen on moving into our new office here in Düsseldorf, to have one place to be. With our Hamburg office, we decided to downsize because the old space was too big for people only being there about 50% of the time. But with the new Hamburg office – which will be in a very central location – we can celebrate coming together again. That's something we're noticing: people want to get together, and we're helping them to make it happen, whether it's having breakfast together at the office, with our annual summer and holiday parties, by going out for dinner together or sending our new apprentices to a vacation house for a weekend so they can really get to know each other.
What do you hope Crossmedia's legacy will be?
Markus: I hope that we will always retain the spirit of the underdog who challenged what was perceived of as the norm. Crossmedia has a history of doing the exact opposite of what everybody else was doing and showing them that it works. I hope we continue to prove everybody wrong by doing the right thing.
Kamran: Yes, I want Crossmedia to be remembered for doing media the right way. Media today is probably the most influential aspect of our world. As it moves, it changes minds, it moves elections and it starts radical behavior. So, in consequence, we have an obligation to ensure there is good ethical behavior in media, that we pay attention to diversity and its environmental aspects and most importantly, to how it influences the human mind. I hope that Crossmedia will be seen as a company that paid great attention to that aspect. And I also hope that if you ever approached us, you became smarter and you had a really good time.