There is a new trend in Ad Land that, at first glance, seems so self-evident and almost mundane that the modern marketeer spontaneously tends to sweep the topic right off the table. Florian Holub, Director Strategy & Analytics at CROSSMEDIA XCCELERATE, on how much attention consumers are really paying to advertising and on the demands media planners have to satisfy in an increasingly fragmented media landscape.
Is my agency seriously trying to tell me that advertising must be seen in order to be effective? Yes! Attention is the buzz word that is on everyone's lips right now. A loud canon is currently forming, from otherwise notoriously disunited camps: advertisers, media, agencies and tech providers are raising their voices, calling on an end to outdated KPIs and drawing attention to an imbalance that has quietly crept into media plans in recent years. Les Binet, known as the "Godfather of Effectiveness", already declaimed a while ago that advertising effectiveness was not only in a downward spiral but, despite all the technical possibilities offered by Big Data and Artificial Intelligence (one often wonders if one excludes the other), had already reached an all-time low. How can that be?
Don't get blinded by big numbers
The growing attention movement is supported by the realization that established mechanisms in an increasingly fragmented and digital media world no longer work as they used to; or that they are, at the very least, leading us toward dangerous misjudgments. A look at the media's use of target groups today draws attention to an enormous predominance of digital channels in almost every case: Reach, frequency of use, time spent – the "classic" media can no longer compare with all this.
Yet this consideration alone obviously falls short, just asway back in the days, the category "Internet" was far too narrow to reduce all that it entails to a single denominator.
A good chunk of the lives of people of my generation is now happening in the digital space, not to mention the lives of Generation Z and subsequent generations who spend their pocket money on virtual makeup and designer clothes for their Snapchat avatars. However, by no means does every minute we spend in these digital worlds have significance for the media plan. The diversity and fragmentation of internet use means that the large numbers serve to hide considerable blocks of media time that have no advertising relevance whatsoever. Ad blockers, direct communication, non-advertising channels such as Netflix or the public media libraries, as well as paywalls and ad-free premium offers from Spotify & Co. are causing media minutes to melt faster than expected, quite similar, in fact, to the polar ice caps. Here, for instance, the results of the ARD/ZDF study Mass Communication 2020 show that media internet usage only accounts for about half of total online usage time – and even this still includes ad-free environments.
And yet it's only natural that the huge numbers and astronomical growth rates of users and advertising spendings migrating to Google and Facebook are not only making marketers and the offline media world nervous, but also many a media planner. At first glance, it seems to make sense to transfer the significance that digital media now have in every area of our lives, and which was once again noticeably fueled by the pandemic, to media planning on a 1:1 basis.
The digital shift has also opened up unexpected opportunities for advertising and media, which can increase efficiency in areas such as CRM, automation and activation – provided they are used wisely. Nevertheless, an undifferentiated view of Internet usage alone cannot be a suitable indicator for assessing advertising relevance. This is because, starting from purely content-based media usage, which manifests itself in the reach of market media studies, through the advertising contact opportunities in the current planning programs, right up to marketing mix modeling approaches at the other end of the spectrum, which have the goal of quantifying the impact contribution of the channels on concrete business outcomes, there are multiple advertising relevant levels that need to be considered for the most holistic understanding possible.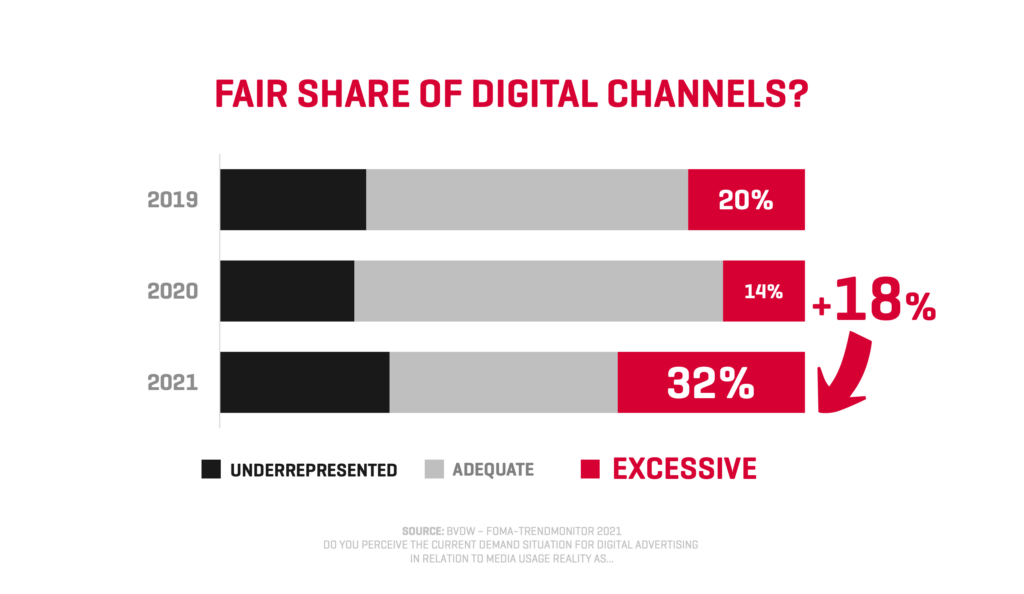 Not all contacts are created equal
All this, however, was only a prelude to the core of the problem. The case made by the attention evangelists is based on the well-known wisdom that contacts in various media and environments cannot be equated in terms of their effect and, as such, in terms of their value for the advertiser. Hardly anyone will disagree with this. Yet, in practice, impressions and contact opportunities are added up, reach lost on TV in young target group segments is compensated for via social media (on paper, mind you), and generally-speaking, only little thought is given to anything going beyond the contact recorded by the ad server.
What we used to know intuitively and from years of experience yet suppressed with the advent of digital blinding and the omnipotence of the measurable, suddenly becomes quantifiable via modern technology and the combination of eye tracking with AI: for example, pioneers in the field of attention measurement such as Karen Nelson-Field or LUMEN provide valuable insights into how much attention we really pay to advertising. In its 2021 foundational study, "The Challenge of Attention" Lumen, along with Ebiquity and Tvision, found that we only spend 1% of our day actually paying attention to advertising – the equivalent of about 9 minutes. And this across all media offers, channels, devices and brands!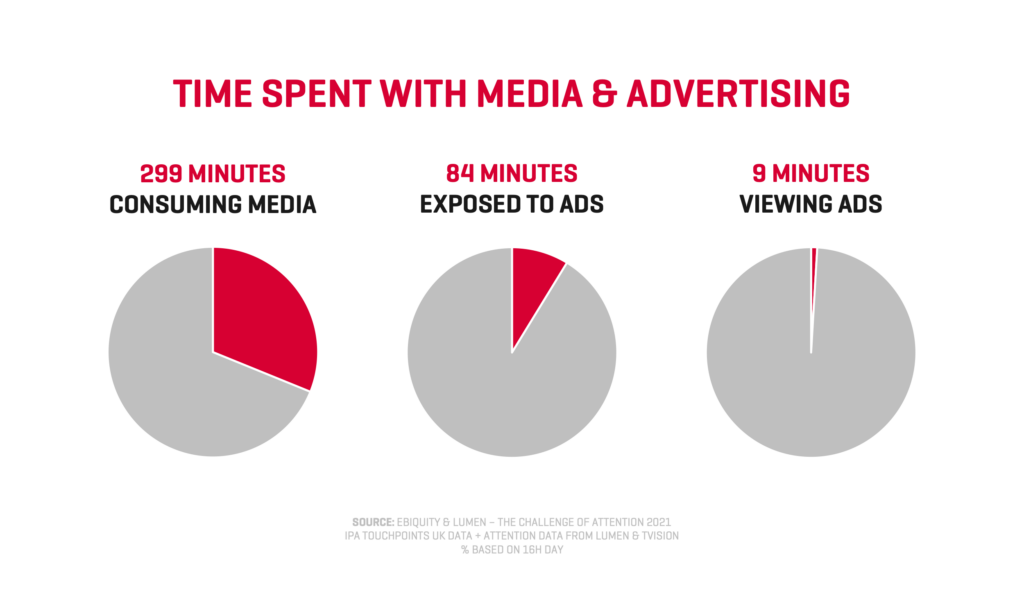 …and reach does not equal reach
Equally important for us as an agency, and for our clients as advertisers, is that the share of ads displayed (and that are seen and paid attention to by real people) varies massively across the various media channels. Example: In the international study series "Not all reach is equal," renowned Australian researcher Karen Nelson-Field concludes that the share of ads we don't even casually notice is 2.5x higher on Facebook than, for instance, on TV. This circumstance can be derived from differences in the usage situation and technical conditions such as ad clutter, screen coverage, scrolling speed or screen size. Together, this not only leads to the fact that the effect of contacts varies by more than a factor of 15x across platforms but is also reflected in the sustainability of the advertising contacts. On TV, for example, uplifts could still be detected up to 78 days after contact, whereas, on YouTube, there was no longer any difference to the baseline after not even two weeks.
There are also major differences in the digital universe itself: Lumen and Ebiquity concluded that forevery 1,000 contacts achieved in the various channels according to valid convention, there are 4,524 actively viewed advertising seconds on YouTube, whereas the figure in the desktop display area only added up to a measly 148 seconds. What was more, it could be proven that the measured attention has a high correlation with a number of important brand and sales KPIs. Thus, it can be assumed that attention is a reliable indicator of advertising success.
When taking all of these qualitative factors into account, seemingly favorable display advertising media CPMs or social media ads become somewhat relative. This is not to say that all these channels have no justification and function in the media mix – it does, however, put their "fair share" of the pie back into perspective.
Incidentally, there is no doubt that the same principle applies within channels when it comes to performance at the context and placement level – often to an even greater extent. Where the framework parameters of ad delivery on TV or on the big platforms like YouTube and Facebook are still reasonably constant, the context quality on the open web does fluctuate significantly. This results in an exponentially higher variance in the attention that can be generated in context A or B. For this reason, the "attention" topic should fall on fertile ground, especially in the rapidly growing segment of programmatic advertising.
Setting the pattern for the trend reversal
And it does! Today, we have a number of players from the AdTech sector who promise to transfer the "attention" principle from basic research to operational campaign planning. Adelaide with their "Attention Unit" measurement parameter, or Lumen and Avocet with their joint L.A.M.P. offering. (Lumen Attention Measurement Platform) transfer insights into underlying principles and influencing factors of attention via algorithms, for example as a DSP plug-in, directly into programmatic buying and optimization of online campaigns.
All in all, the increasing focus on attention and advertising impact is undoubtedly a step in the right direction (and a long overdue one at that). However, despite all the euphoria, the approaches taken to date still have their limitations and system-intrinsic challenges. Many basic studies are limited to a narrow media set that usually focuses heavily on moving image advertising and digital media. As such, they do not offer a cross-genre framework that would satisfy the requirements of neutral and holistic consulting yet. However, with increasing numbers of participants from various media genre initiatives and integration into agency-owned systems, there definitely is hope to close the remaining gaps in the foreseeable future.
Also, it should not go unmentioned that, due to methodology, many initiatives capture visual attention and viewing time as a gage and basis of advertising impact. This is absolutely correct for display advertising, moving images or out-of-home ads. However, at the latest when referring to podcasts or radio advertising, it reaches its limit, since different modes of action apply to these purely auditory channels.
We have to stop putting so much energy into irrelevant key media figures
Despite all the ifs and buts, things aren't looking so bad and I for one am quite optimistic. We are on the verge of a positive turnaround in advertising effectiveness – if, and indeed if, advertisers honestly admitted to themselves that not everything that can be measured in real time in the digital world is also significant for their business success. If agencies in consulting their clients once again focused more on fundamental mechanisms and real business outcomes, instead of working on irrelevant media key figures and engagement rates or deciding to pass on every "hot" tech hype to their clients, ultimately leaving them with burnt fingers. And if qualitative factors such as attention were given appropriate importance in audits. Agencies need to take their clients' justified demand for quality and impact seriously. And clients must no longer perform agency evaluations on flat-rate CPMs that are based on arbitrary contact definitions, which demonstrably say very little about whether ads are actually being seen or paid attention to.
Foto Credit: CC7 (Shutterstock)